Until Proven Safe: The History and Future of Quarantine
Nicola Twilley and Geoff Manaugh | July 2021
In July 2021, Gastropod co-host Nicky and her husband Geoff published this co-authored book, which inspired this episode: Chocpocalypse Now! Quarantine and the Future of Food.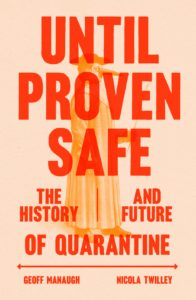 Until Proven Safe tracks the history and future of quarantine around the globe, chasing the story of emergency isolation through time and space—from crumbling Mediterranean lazarettos built to contain the Black Death to an experimental Ebola unit in London, from the hallways of the CDC to closed-door simulations where pharmaceutical execs and epidemiologists prepare for pandemics yet to come.
But the story of quarantine ranges far beyond the history of medical isolation. The authors tour a nuclear-waste isolation facility beneath the New Mexican desert, see plants stricken with a disease that threatens the world's wheat supply, and meet NASA's Planetary Protection Officer, tasked with saving Earth from extraterrestrial infections.
Geoff Manaugh and Nicola Twilley have been researching quarantine since long before the COVID-19 pandemic. With Until Proven Safe, they bring us a book as compelling as it is definitive, an up-to-the-minute investigation of the interplay of forces—biological, political, technological—that shape our modern world. It is a thrillingly reported, thought-provoking exploration of the meaning of freedom, governance, and mutual responsibility.
Until Proven Safe helps us make sense of our new reality. Buy it here.
Tracking and Increasing the Representation of Diverse Voices: A Report and Findings
Gastropod | September 2020
In October 2018, with the support of the Alfred P. Sloan Foundation, Gastropod launched a ground-breaking and ambitious diversity initiative. This report is, to our knowledge, the first time a podcast has publicly and transparently demonstrated the ways in which they work to ensure their guests represent a wide diversity of voices.

In it, we share the novel metric and method we developed to quantify that representation—a way of measuring our performance against our real goal, which is increasing the diversity of voices heard as opposed to simply the diversity of guests on the show. We also share our surveys and tools, our strategies for finding diverse sources, and our lessons learned, in order to help other radio shows and podcasts. We hope this report contributes to a dialogue we think is essential: how can podcasts help combat pervasive bias against women and Black, Indigenous, and People of Color (BIPOC) in our society?