Gastropod in your earbuds or on your stereo is great; Gastropod live is all that, plus the chance to ask questions and interact with Cynthia, Nicky, and their special guests. We even bring the snacks (venue permitting)!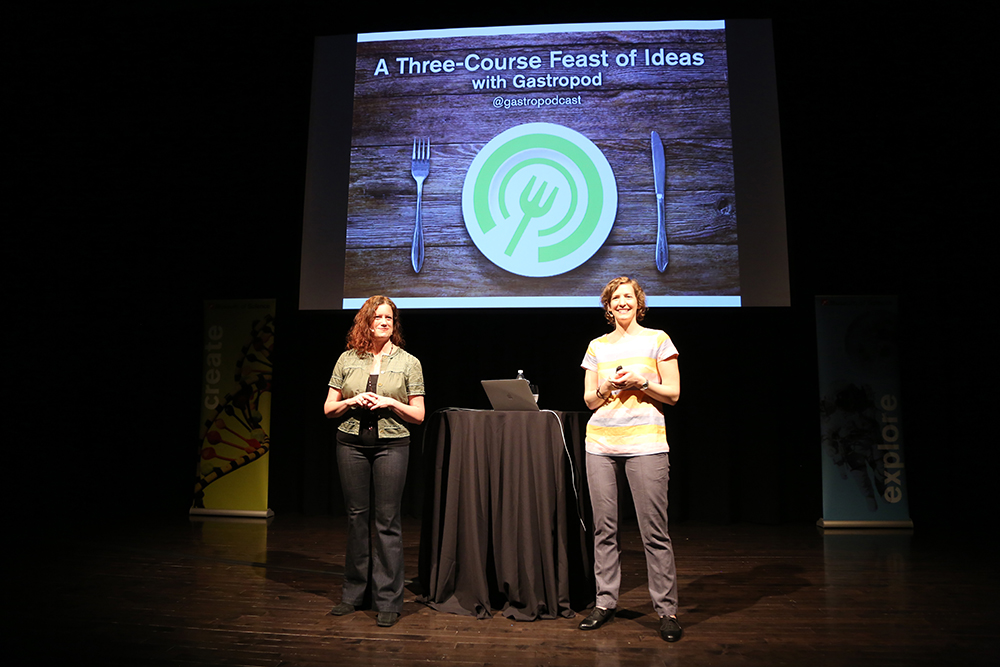 Photo courtesy the Museum of Science, Boston.
2017 Live Events
Gastropod at the Majestic Theater, Madison, Wisconsin, Sunday, June 4, 2017
How do microbes create the flavor of your favorite cheese? Are you sure that your hamburger is really made of beef? And how does music affect the taste of chocolate? In this special live performance of the podcast Gastropod, co-hosts Cynthia Graber and Nicola Twilley will serve up a three-course feast for your eyes and ears. Special guests will include cheese geek Jeanne Carpenter, founder and executive director of Wisconsin Cheese Originals, and Barry Levenson, a professor of food law at the University of Wisconsin as well as the founder of the Mustard Museum. The evening will combine live experiments and interactive tastings to reveal the history and science behind the food we eat every day. This event is brought to you as part of the 2017 International Public Science Events Conference. Tickets for this special live event are available now!
Gastropod at the Boston Museum of Science, Wednesday April 26, 2017
Who invented the chocolate brownie? What's the horrifying history of toxic additives behind today's food fraud laws? How did seltzer get its fizz, and what on Earth does a unicorn kiss taste like? From live experiments to interactive tastings, the evening will combine special guests and field recordings to reveal the history and science behind the food we eat every day. Special guests will include Deborah Blum, science writer and author of The Poisoner's Handbook, Carla Martin, founder and director of the Fine Cacao and Chocolate Institute, and Chris Crowley, of New England's legendary Polar Seltzer.
We'll be performing this new solo show at Boston's Museum of Science's Cahners Theatre on April 26, 2017. The show starts at 7:00pm with a reception in the Museum's special Chocolate exhibition to follow. The show is sold out, but any returned tickets will be put on sale again here.
Gastropod at the Michigan Science Festival, Saturday, April 8, 2017
What are the chances that your olive oil is fake, or that your yellowtail sushi roll is really escolar instead? How did seltzer get its fizz, and what are those bubbles doing to your taste buds? And what's the story behind your Hershey kiss or your high-end, artisanal chocolate bar? In this live performance, we will serve up a three-course feast for your eyes and ears. Special guests will include John Spink, founder and director of the Food Fraud Initiative at Michigan State University, and Helen Veit, a MSU historian who focuses on food and nutrition.
We'll be premiering this brand-new solo show at Michigan State University's annual Science Festival, at the Kellogg Hotel and Conference Center Auditorium in East Lansing, Michigan. Doors open at 6:30pm for a 7:00pm start; the show is free to attend, with first-come, first-served seating.
Pop-Up Magazine Winter Tour
Pop-Up Magazine is a live magazine, performed on stage in front of a live audience. For the Pop-Up Winter 2017 Tour, Gastropod joined a long list of talented writers, musicians, and artists to debut a brand-new story. In late February and early March, we appeared in sold-out venues in Los Angeles, San Francisco, New York City, Austin, Portland, and Seattle. The show is never recorded, so you had to be there to experience it!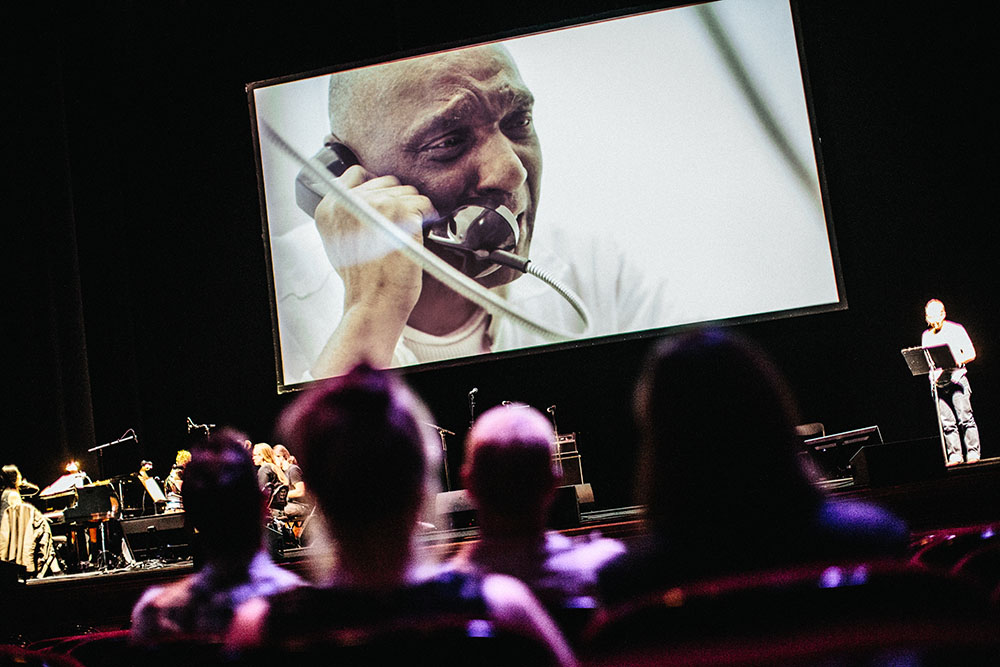 Pop-Up Magazine contributor Jamie Meltzer. Photo by Jon Snyder.
2016 Live Events
Our first live event took place at the Boston Museum of Science in May 2016, and sold out in minutes. A full house sat down to a three-course performance: live cheese microscopy and tasting with Tufts University professor and Gastropod microbiologist-in-residence, Benjamin Wolfe; a live interview with seaweed farming pioneer and Buckminster Fuller Challenge winner, Bren Smith; a surprise condiment course on the secrets of sriracha's success with author and food historian Sarah Lohman; and, for dessert, an interactive chocolate-and-music pairing experiment, inspired by the work of Oxford University's Charles Spence.
Thanks to the museum's fabulous A/V team, you can re-live the evening (minus the samples) by watching the video above. If you'd like to be the first to know about future live events, sign up for our mailing list here. If your institution or event would like to host its own Gastropod live event, we'd love to talk with you: the best way to reach us is by email at contact at gastropod.com.