They're a kingdom unto themselves, neither animal, vegetable, nor mineral. They count among their number both the world's largest organism and millions of microscopic, single-celled creatures. And yet not only have they been an important—and delicious—food source for thousands of years, but they also seem to have powerful medicinal properties. What are these mysterious creatures? Fungi!
In this episode of Gastropod, join hosts Cynthia Graber and Nicola Twilley as they dive underground into the weird world of mushrooms. They visit one of the largest fungi collections in the world, the U.S. National Fungus Collection in Beltsville, Maryland, home to a million specimens as well as two Transylvanian mushroom hats. They also tour a boutique mushroom farm in Maine and head out on "the quiet hunt" through a New England forest in search of wild mushrooms that are tasty, rather than toxic.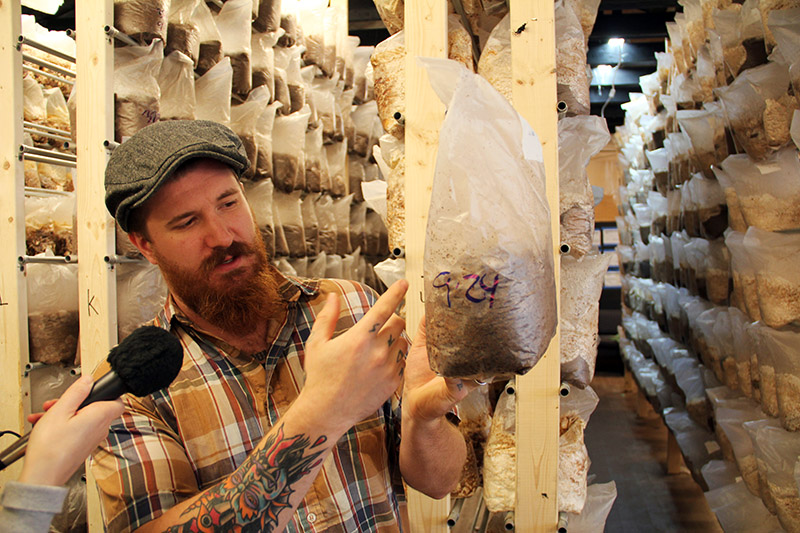 Erik Lomen of Maine Cap N' Stem Company shows Nicky a bag of sawdust in the process of being colonized by mycelium. Photo by Geoff Manaugh.
Along the way, they uncover the long history of mushroom consumption, and the (much shorter) history of mushroom cultivation, as well as tease out the curious connection between logging restrictions and the rise of wild mushrooms in American culinary culture. And they learn about promising new research that started with a shiitake-infused cutting board and may end up combating antibiotic-resistant infectious diseases with personalized mushroom therapeutics.
Episode Notes
Maine Cap N' Stem Mushroom Company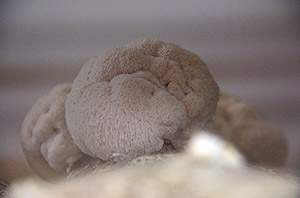 Husband-and-wife team Erik and Kathleen Lomen and their business partners grow some of Maine's finest mushrooms at Maine Cap N' Stem Co. in Westbrook, Maine. You can find their fungi at Maine's restaurants and farmers' markets, as well as order mushroom cultures and dried reishi from them directly online.
Lion's Mane mushroom growing at Maine Cap N' Stem Co., photo by Geoff Manaugh.
Mycophilia: Revelations from the Weird World of Mushrooms
Eugenia Bone is the author of Mycophilia: Revelations from the Weird World of Mushrooms, among many other books. Her essay on the history of amateur mushroom foraging in America, including the unfortunate but pivotal death of Count Achilles de Vecchj, was published in Edible Manhattan.
The U.S. National Fungus Collections
The U.S. National Fungus Collection is housed within the USDA campus, in Beltsville, Maryland. Mycologist Lisa Castlebury, an expert on smut fungi, kindly gave us a tour.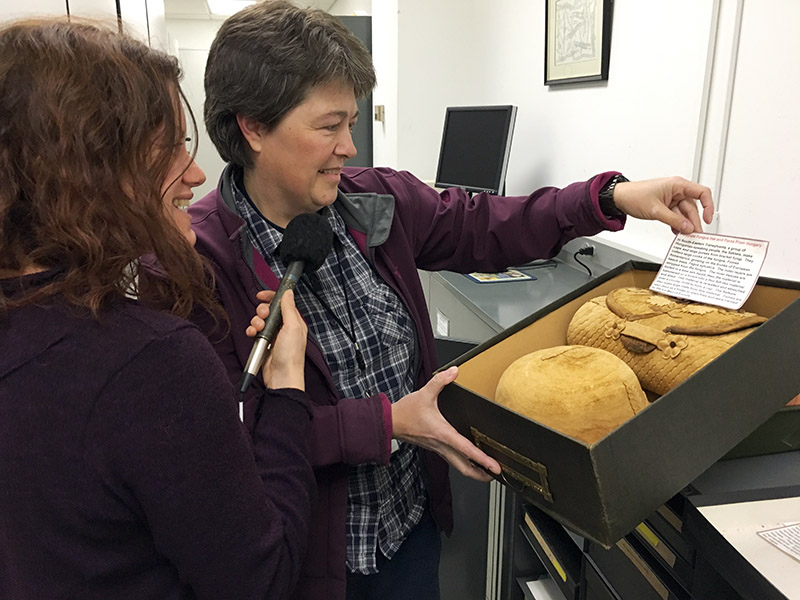 Lisa Castlebury shows Cynthia a hat and purse made from mushrooms at the U.S. National Fungus Collections. Photo by Nicola Twilley.
Jonathan Reisman, physician and mushroom forager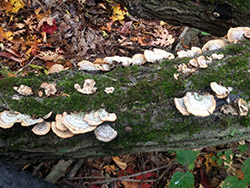 Jonathan Reisman, who took Cynthia out foraging in the Boston suburbs, wrote an op-ed in The New York Times called Learning from Fungi: Of Medicine and Mushrooms. In the piece, he recounts learning to recognize edible mushrooms at the same time as he was learning to diagnose diseases.
Turkey Tail Mushrooms spotted growing just outside Boston, photo by Cynthia Graber.
Tradd Cotter's Mushroom Cutting Boards
Tradd Cotter of Mushroom Mountain Farm has published his instructions for making your own anti-microbial mycelium cutting boards in his book, Organic Mushroom Farming and Mycoremediation: Simple to Advanced and Experimental Techniques for Indoor and Outdoor Cultivation.